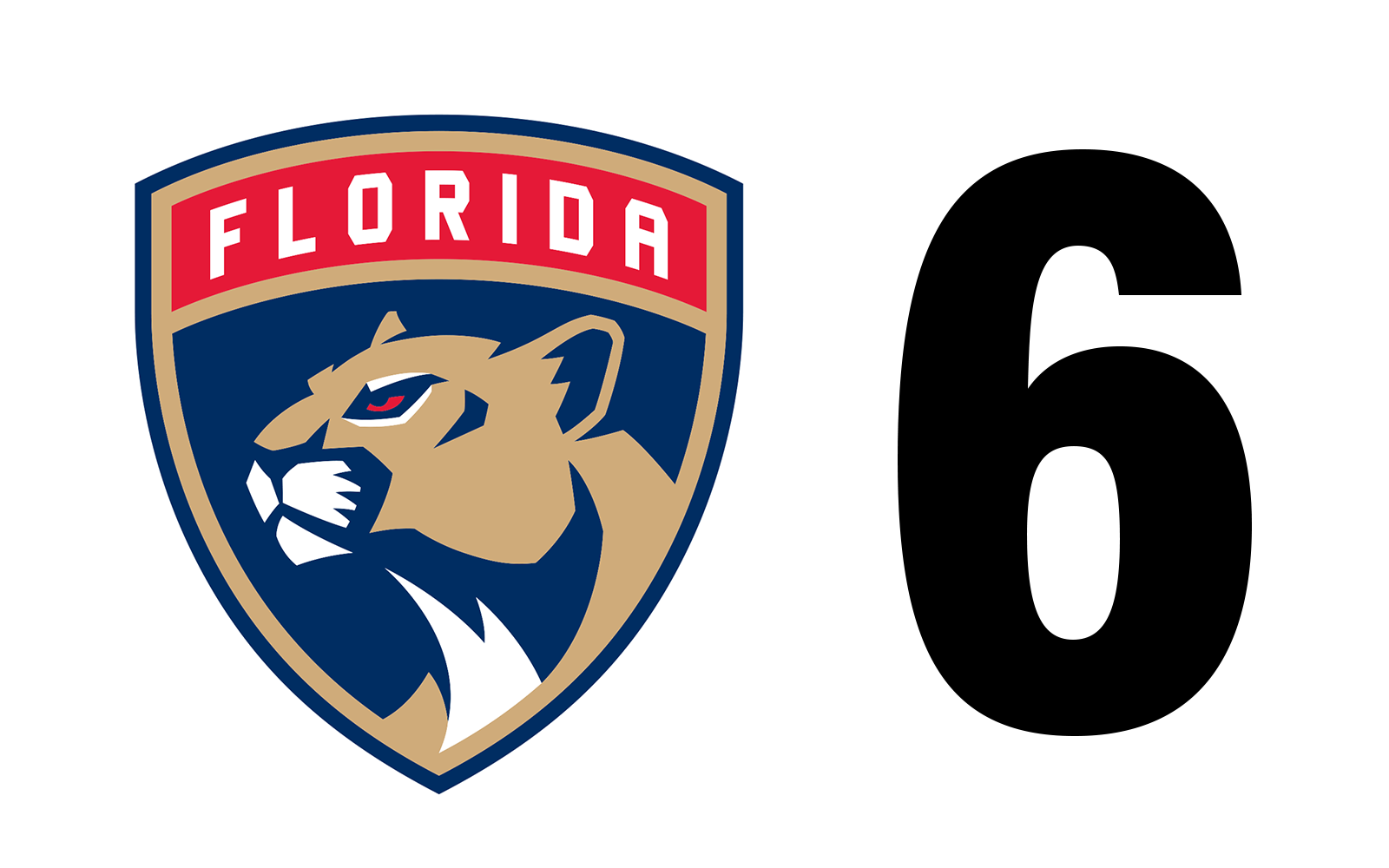 REFRESH THIS PAGE REGULARLY FOR UPDATES  
THIRD PERIOD
0.0: Final shot count in this one, 34-21 for the Panthers.
1:45: Devils pull Schneider for the extra attacker looking to rally.
4:28: Dadonov picked up a rebound in front and swept it in to double the Panthers lead. | FLA 6, NJ 4
7:22 Boqvist received four minutes for high sticking to put Florida on the power play. Shots on goal 29-20 for the Panthers (8-2 Florida in the period) with seven minutes left.
11:03: Subban hauls down Vatrano to send the Panthers to the power play.
12:30: Weegar's blast from the point was tipped by Noel Acciari for the goal. | FLA 5, NJ 4
13:11: Devils adjust some lines with Hughes skating with Hall and Palmieri while Boqvist moved to the middle on Hughes' previous line with Simmonds and Bratt. The result is some more pressure as they try and stem the tide of momentum the Panthers are carrying.
19:30: Mackenzie Weegar blasted a shot from the left point past Schneider to tie the game up at 4-4. | NJ 4, FLA 4
20:00: Period three has started.
#NJDevils Nico Hischier doesn't come out of the locker room to start the third period.

Will ask for an update post-game, but missing the entire second and not on the ice to start the third likely indicates he won't be back this afternoon.

— Amanda Stein (@amandacstein) October 14, 2019
SECOND PERIOD
0.0: After two, shots on goal were 21-17 for the Panthers.
7.5: Panthers created a turnover in the dying seconds of the middle frame. Hoffman skated in on the rush and quickly flipped it to Connolly who rifled it past Schneider to make it a one-goal game. | NJ 4, FLA 3
2:17: Schneider comes up with some big stops as the Panthers pressure to get back within one.
7:18: The Devils had a ton of zone time on that man advantage but could not score. After it had expired, Hughes picked up a loose puck in the crease and with a wide open net, his shot was somehow blocked by an errant Panthers stick and stayed out.
But, lets go back to that #NJDevils power play.
Hall, Hughes, Palmieri and Simmonds played the full two minutes.
Vatanen played 1:25 and then swapped out with Subban.
That was a huge step in the right direction.

— Amanda Stein (@amandacstein) October 14, 2019
9:41: Hunt received his second penalty of the game, sending the Devils back on the power play.
10:10: Just as Vatanen exited the box, Brett Connolly wired a wrist shot on a one-timer high on Schneider to make it a two-goal game. | NJ 4, FLA 2
12:17: A second after the Subban penalty expired, Vatanen got called for hooking to give the Panthers their first full two-minute power play of the day.
14:18: Subban gave the puck away coming around the net and in recovery, hooked Noel Acciari to negate the rest of the Devils power play.
14:37: Panthers get called for too many men on the ice, sending the Devils back on the man advantage.
17:34: Dryden Hunt took a penalty, giving the Devils the game's first power play.
18:52: ZACHA MAKES IT FOUR! Pavel Zacha took a feed from Hall and redirected it in close high on Bobrovsky to make it a 4-1 game. | NJ 4, FLA 1
19:28: WHERE THERE'S A WILL… Will Butcher wired a wrist shot from the left point top corner over the shoulder of Bobrovsky to put the Devils up by a pair. | NJ 3, FLA 1
20:00: Period two has begun.
FIRST PERIOD
0.0: After one, shots on goal were 12-8 for Florida.
46.7: BRATT BACKHANDS IT IN! Jesper Bratt picked up the puck along the side boards and drove straight to the net, backhanding it by Bobrovsky to put the Devils in front. | NJ 2, FLA 1
6:20: Barkov made a nice feed, spinning and backhanding it over to Dadonov but Schneider got his right arm on the shot from the slot to keep the game tied.
6:45: Bobrovsky made two saves off Nikita Gusev, who fired off two quick backhands.
7:30: Shots on goal with seven-and-a-half minutes to play in the opening frame were 6-3 for Florida.
My oh my! #NJDevils Nikita Gusev has some incredible moves.

Unfortunately he's stopped by Bobrovsky, but wow. Can't leave Gusev like that all alone if you're the opponent.

Once he gets more accustomed, look out.

— Amanda Stein (@amandacstein) October 14, 2019
17:32: HALL ABOARD! Taylor Hall carried the puck into the Panthers zone and skated over to the top of the right circle and wired it past Florida goaltender Sergei Bobrovsky to tie it. | NJ 1, FLA 1
19:44: Only 16 seconds into the game, Jonathan Huberdeau worked a nice give-and-go with Evgeny Dadonov. Dadonov made a nice no-look feed to Huberdeau in front who tapped it in to get the Panthers on the board. | FLA 1, NJ 0
20:00: Today's game is now underway.
TODAY'S LINEUP
Hall-Hischier-Palmieri
Wood-Zajac-Coleman
Boqvist-Hughes-Simmonds
Gusev-Zacha-Bratt
Severson-Subban
Butcher-Vatanen
Carrick-Tennyson
Schneider
OUT: Greene (upper body), Hayden, Rooney, Mueller
DEVILS:60 | PRE-GAME vs FLA