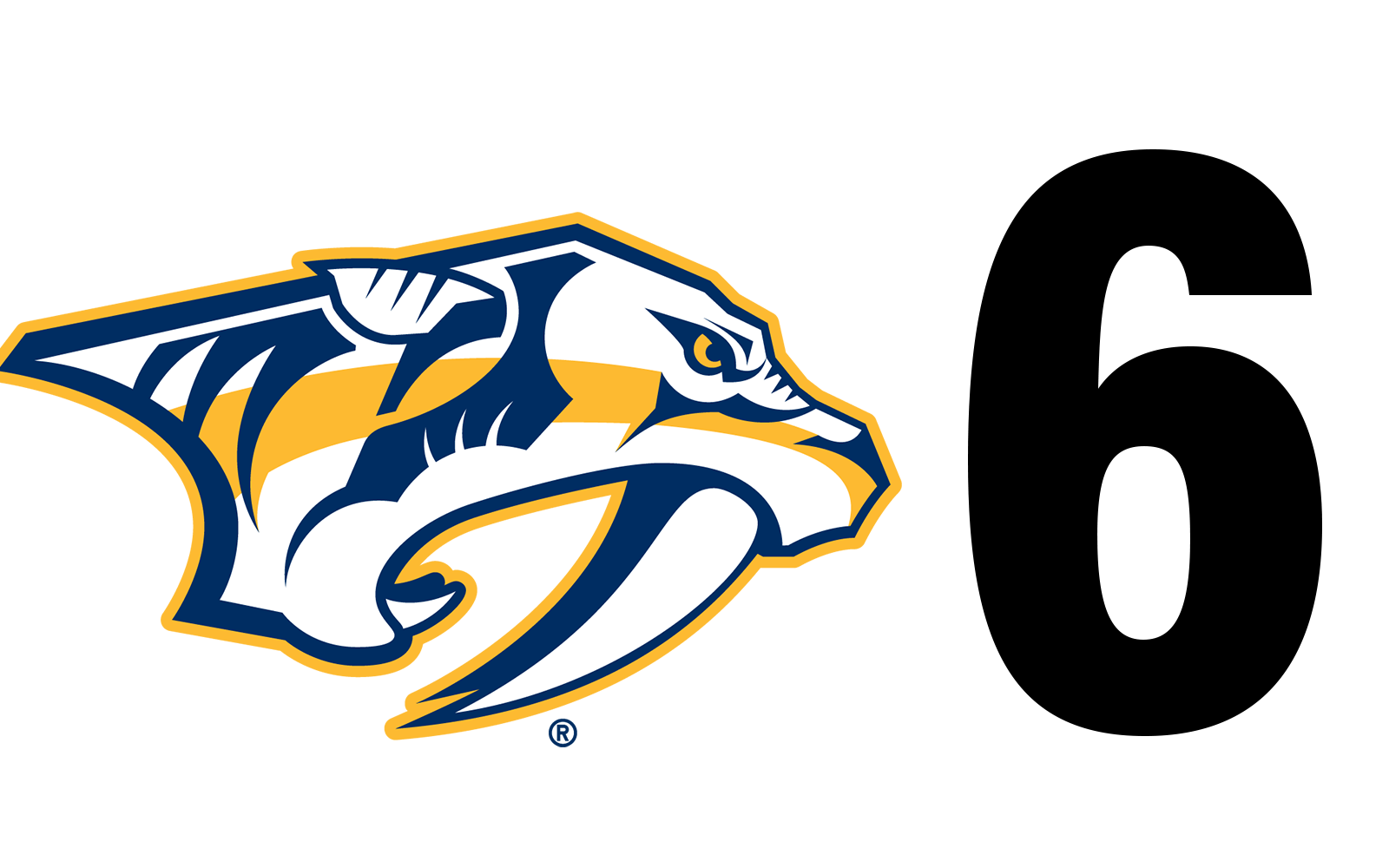 REFRESH THIS PAGE REGULARLY FOR UPDATES  
THIRD PERIOD
0.0: Final shot count in the game was 36-33.
46.5: Devils had seven skaters on the ice and received a penalty for too many men on the ice.
2:30: With Domingue out for the extra attacker, a clearing attempt by Fabbro went the entire length of the ice but just narrowly missed the gaping cage.
7:16: Rocco Grimaldi used his speed to chase a puck down in the neutral zone, broke in alone and deked out Domingue to make it 6-4. | NSH 6, NJ 4
8:51: HALL IN! Taylor Hall banged home a rebound at the side of the net to make it a one-goal game once again. | NSH 5, NJ 4
14:13: Nick Bonino rifled a shot over the shoulder of Domingue and under the crossbar to put the home team up 5-3. | NSH 5, NJ 3
19:18: Coleman took a penalty 42 seconds into the third for holding, giving Nashville its fifth power play of the night.
20:00: Period three has begun.
SECOND PERIOD
0.0: After two, shots on goal were 25-23 for the Predators.
6:53: HALL TO PALMS! 52 seconds into the man advantage, Hall spotted Palmieri at the hashmarks and he one-timed a shot past Rinne to make it a one-goal game. | NSH 4, NJ 3
🚨 Palmieri
🍎 Hall
🍏 Vatanen

Palmieri buries a @PSEGdelivers power-play goal to make it a 4-3 game! https://t.co/tmr5Jx3UGM pic.twitter.com/La9tMLnhlp

— New Jersey Devils (@NJDevils) December 8, 2019
7:45: After coming out of the penalty box, Coleman went in on a breakaway. He was stopped on his deke attempt by Rinne but upended by Filip Forsberg in the process. Forsberg went off for two minutes.
9:54: Only five seconds into the power play, Ryan Johansen was called for interference.
9:59: Blake Coleman was sent to the box.
12:36: Filip Forsberg picked up a loose puck in the pads of Domingue and put it home to double the Preds' lead. | NSH 4, NJ 2
14:08: Rocco Grimaldi's blast from the right circle went off the skate of Yakov Trenin in front and trickled through the five-hole of Domingue to put the home side back in the lead. | NSH 3, NJ 2
17:13: Miles Wood received two minutes for high-sticking.
19:28: Fabbro got called for hooking 32 seconds into the period, sending the Devils on the power play.
20:00: Period two is underway.
FIRST PERIOD
0.0: After one, shots on goal were 13-11 in favor of the Predators.
The @NJDevils and Predators recorded the 14th instance in NHL history of two teams combining for at least four goals in the opening four minutes of a game. #NHLStats pic.twitter.com/zsq3sO8nQB

— NHL Public Relations (@PR_NHL) December 8, 2019
4:45: Shots on goal are 11-8 in favor of the Preds.
8:21: P.K. Subban was called for hooking to send the Devils to a four-on-three power play for 10 seconds followed by a five-on-three for 43 seconds.
9:48: The man advantage was negated only 33 seconds in as Nikita Gusev took a slashing penalty.
10:21: Yannick Weber took the first penalty of the game, for unsportsmanlike conduct, sending the Devils to the power play.
13:41: Coming out of the first timeout, P.K. Subban received a standing ovation after a welcome video played on the scoreboard.
Welcome back to Smashville, @PKSubban1.#Preds | #NJDvsNSH pic.twitter.com/MZbMwmnrcq

— Nashville Predators (@PredsNHL) December 8, 2019
16:01: WHAT A CRAZY START! Travis Zajac picked up the puck in front of the net, spun and delivered it five-hole on Rinne to tie the game up at 2-2. | NJ 2, NSH 2
17:15: BIG RESPONSE! Jesper Bratt rifled a shot from the slot past Preds netminder Pekka Rinne to draw the Devils within one only 32 seconds after Nashville's second goal. | NSH 2, NJ 1
🚨 Bratt
🍎 Zacha
🍏 Vatanen https://t.co/c1IR0CiddR pic.twitter.com/W41zBcfW0P

— New Jersey Devils (@NJDevils) December 8, 2019
17:47: 87 seconds later, the Predators struck again. Dante Fabbro scored to make it a 2-0 game. | NSH 2, NJ 0
19:14: Only 46 seconds into the game, Daniel Carr scored to put the Predators on the board early. | NSH 1, NJ 0
20:00: Tonight's game is now underway.
TONIGHT'S LINEUP
Hall – Hughes – Palmieri
Coleman – Zajac – Gusev
Boqvist – Zacha – Bratt
Wood – Rooney – Simmonds
Greene – Subban
Severson – Vatanen
Butcher – Mueller
Domingue
OUT: Tennyson (injured), Hischier (illness), White, Hayden
DEVILS:60 | Pre-Game at NSH